Press Releases - News Updates

Happy New Year 2021!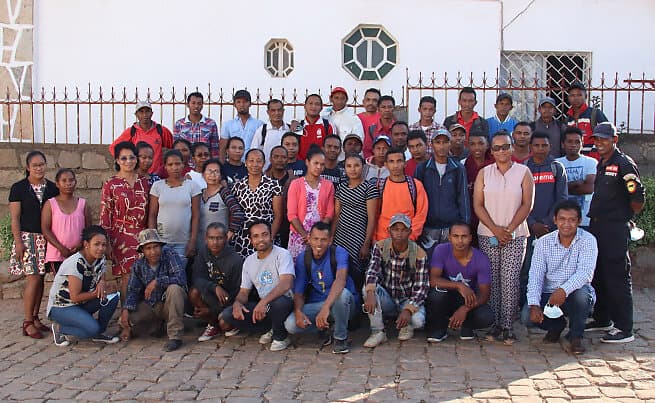 We would like to take some time during this season of gratitude to thank you - our customers, friends, and social media followers. During these uncertain times we are grateful for your continued patronage and appreciation of our beautiful minerals and fossils. What started out as a simple mining operation selling just rough stones 30 years ago has blossomed into a multinational company with locations in Madagascar and the US. We pride ourselves on our heritage, having been started by my father Carl Grant and Laingo Malala in 1991. I started working with Norcross in 1995 part time while a student at university. I transitioned to full time in 1998 and expanded the company into the US, purchasing a gallery and warehouse in Tucson, AZ in 2005 and a second gallery and warehouse in 2017.


Our product line has grown from just a few items to beautiful hand-carved hearts, skulls, spheres, plaques, large showpiece items (Labradorite bathtub, Amazonite, and Petrified Wood fountains), and full gemstone slabs. We are constantly listening to our customers and have added many products over the years. Our recent addition of tumbled stones came after years of research into how to best tumble our beautiful stones.

We have recently expanded our Madagascar operations to meet the increasing demand for our hand-carved items, The Madagascar operations are run by Laingo, who was trained by gemstone cutting masters in Idar-Oberstein, Germany. At the time she was specializing in producing high-end faceted and rough gem materials. Laingo and Carl opened a small factory in Manakambahiny, Antananarivo in 1994. By 1995, the small Norcross company had moved their focus off the unpredictable gemstone rough and facet market and into the seemingly more stable mineral industry. They had 25 lapidary workers in their workshop, and were cutting stones like Labradorite, Rose Quartz, and Petrified Wood, to name a few. Labradorite became their specialty right away.

Laingo and Carl pioneered the techniques of cutting, polishing and treating Labradorite in order to bring out the material's true potential, moving the stone from rare and interesting to becoming one of the most popular and exciting stones on the market today. We have since acquired the mining rights to many more stones over the years to offer our customers more variety. My father passed away in 2000, and since that time, Laingo and myself have managed the company. The company has expanded to over 100 workers and many mining properties throughout Madagascar, and many of the original employees are still working with us today. Norcross has become a culture, and a family. Without Laingo's leadership in Madagascar, none of the company's success would be possible, including navigating the company during two revolutions (in 2002 and 2009), economic downturns (2008-2013), and the current COVID-19 pandemic. She is a strong and intelligent woman, a philanthropist, a dedicated mother and wife, and a true leader in Madagascar's gem and mineral industry.

We are proud to be the direct from the mine provider of all these beautiful products and thank all of you for your continued patronage and support. In closing, I would like to wish each and every one of you a wonderful holiday season full of joy and extend my wishes that 2021 is a year of prosperity, good health, and happiness. Thank you for being part of the Norcross Family. We appreciate you.

Wishing you a happy, healthy, and prosperous New Year.

Robert M. Grant
Norcross Madagascar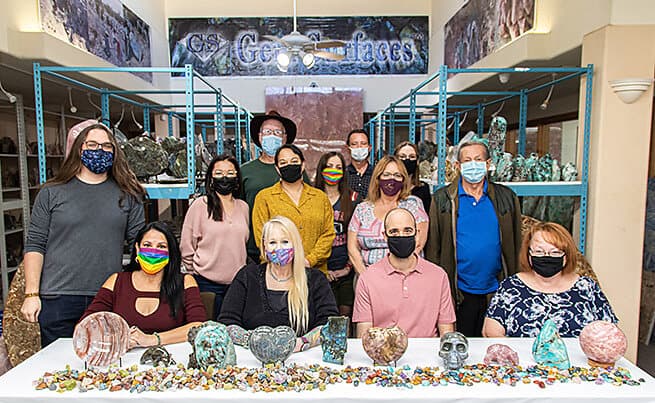 COVID-19 Madagascar Update - Sep 2020


In March, the Madagascar government responded to the COVID-19 pandemic by half-locking down the country. They restricted non-trade transportation, and closed markets and factories for quite some time. Toward the beginning of August, markets were finally allowed to begin opening up, albeit with some restrictions.
However, in a true act of dedication, some Norcross workers remained in lockdown for two weeks at our factory in order to keep the tumblers spinning to prevent a loss of production. We cannot thank them enough - a huge shoutout to Nivo, Malala, Rija, Ninie, Tsiry, Aina, Tovo, Sitraka, Feno, Tahiry and Perle for their hard work.
Meanwhile, the Maniry School was closed under government orders, along with our Antananarivo office. While the office and full production begin to pick up again, our Labradorite quarry in Maniry is still on standby for the safety of the workers there.

The Amazonite quarry is going full force, as it's remote enough to be safe, and a quite promising deep-turquoise color is turning up as we mine deeper along the vein. Our Bongolava Red Hematoid quarry was also spared from the pandemic, and has maintained production as well!
However, crime has increased due to the slowed economy, so we have had to take extra precautions to protect Norcross workers. Despite this, we have generally been able to avoid huge losses in production.

Most importantly, not a single Norcross worker has contracted coronavirus! Everyone's steadfast efforts to curb the spread were a success, and we're really proud of every crew involved.
This is a time of celebration. Our factory is getting back to work (safely!), we've resumed construction of our second Gem Decor Rough factory in Anosiala, and it's time for another great Denver Gem Show!

Norcross Madagascar Second Factory - Anosiala, Antananarivo - Aug 2020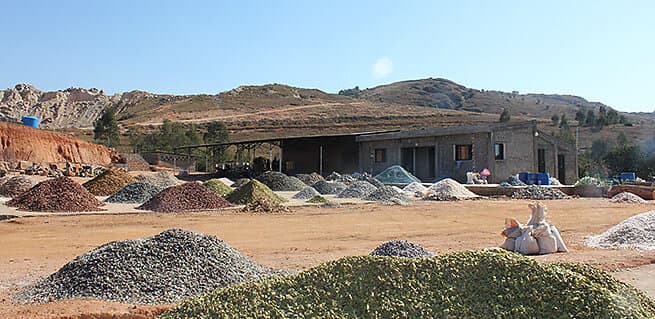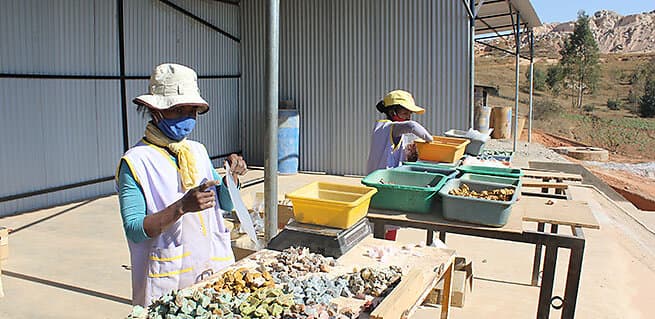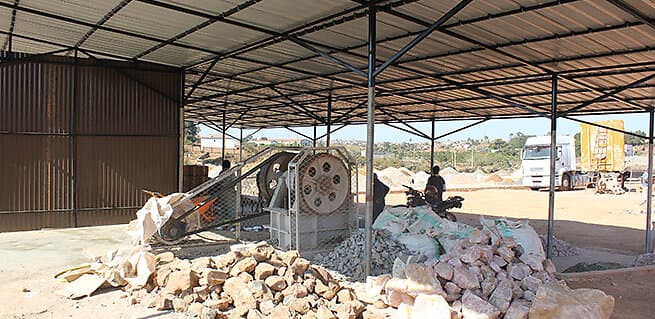 Amazonite Mine- June 2020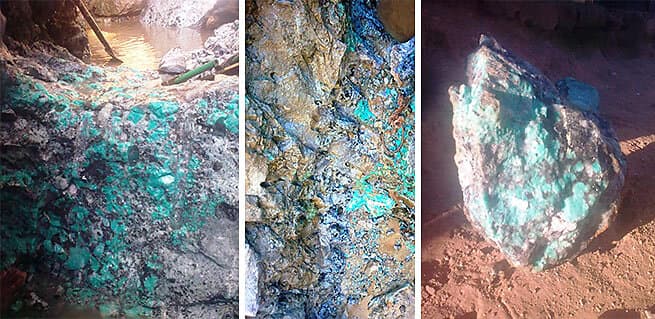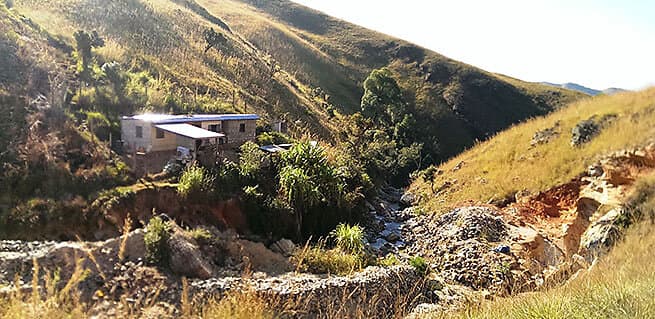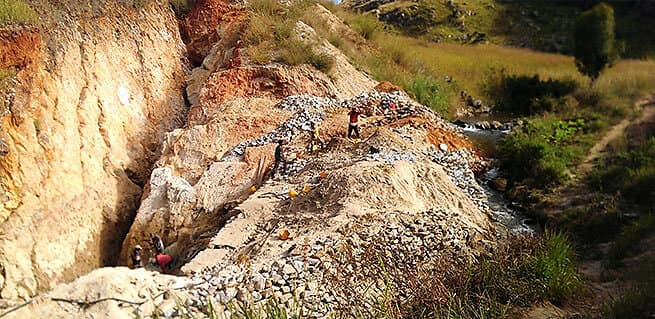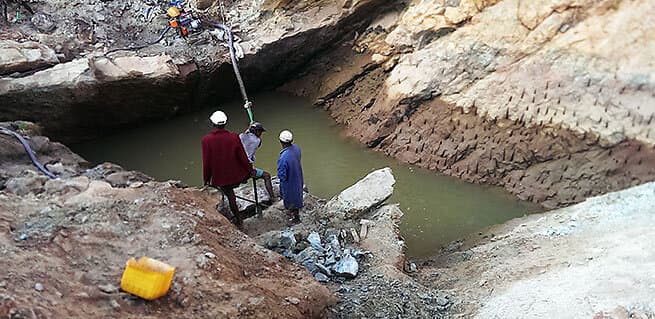 Small bridge to Ifasina, the village near our Amazonite mine, destroyed by the dahalo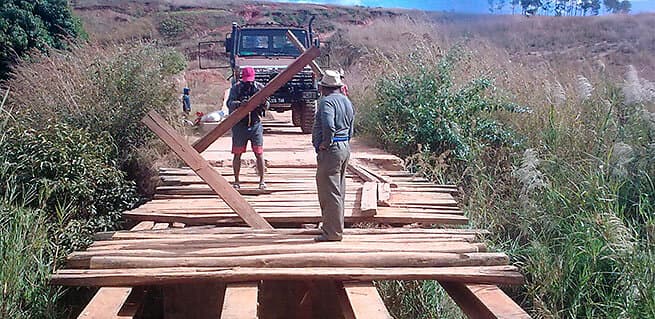 Labradorite Blocks - Dec 2019

Norcross Madagascar continues to ship its Peacock Blue and Fire Labradorite blocks from Tuléar. Thousands of Labradorite Blocks for slabs, Boulders and Block Roughs are ready to be shipped at the Maniry Quarry, Madagascar.


Dec 2019, the Norcross Madagascar Peacock Blue and Fire Labradorite Blocks being shipped at the Tuléar port.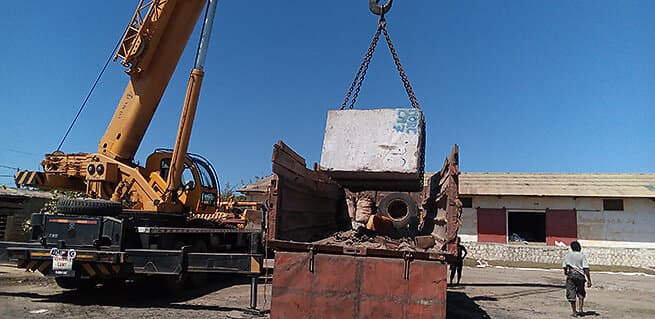 Labradorite Blocks - Dec 2019
Thousands of Labradorite Blocks (Fire Labradorite and Peacock Blue Labradorite) for slabs, Boulders and Block Roughs are ready to be shipped at the Maniry Quarry, Madagascar. Norcross Madagascar selects its best Fire Labradorite and Peacock Blue Labradorite Blocks or Roughs to satisfy all customer orders.

Dec 2019, the Norcross Madagascar Fire Labradorite Blocks area at the Maniry Quarry, Madagascar.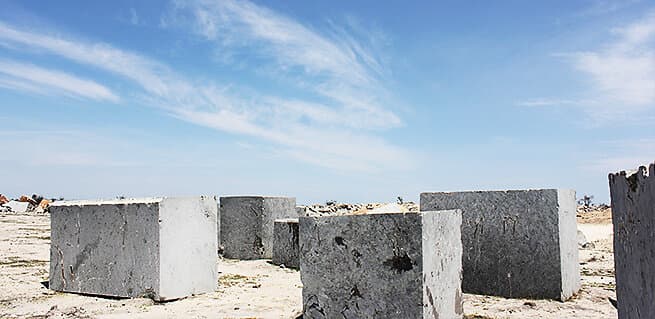 Norcross land development update - Sept 2019
Last year we moved a mountain, literally!
Over the past year, we used the thousands of truckloads of dirt from the mountain to help expand the local road system. Outcroppings of granite and gypsum left over from flattening the land are being used by small local dealers. We're currently moving machinery in and will soon begin construction on our future Norcross headquarters.


Sept 2019, the new Norcross Madagascar headquarter facilities are taking place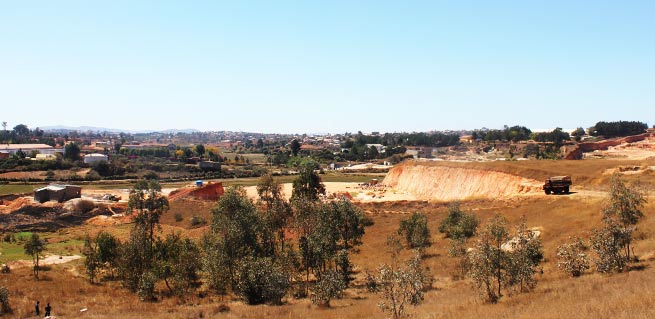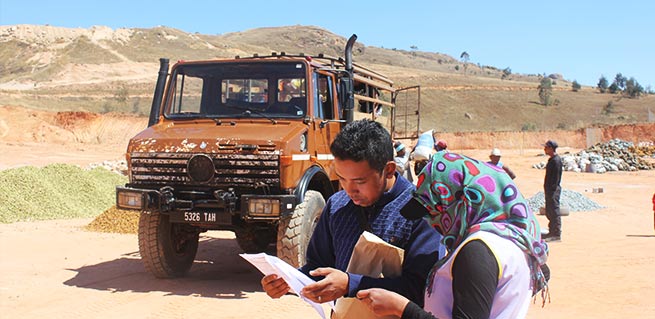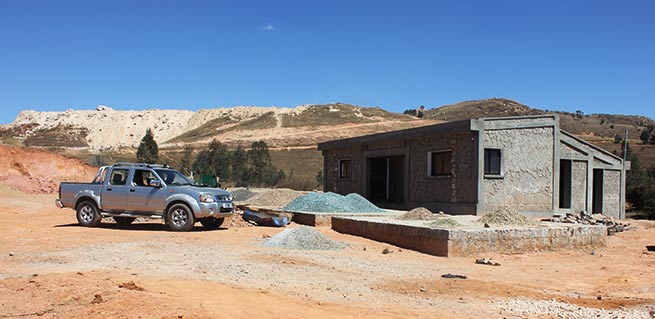 Flattening the land (dirt was used to help expand the local road system)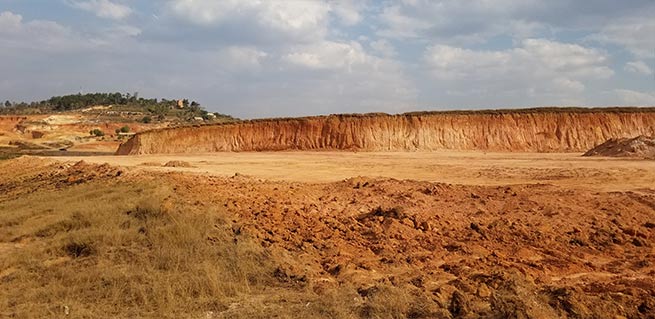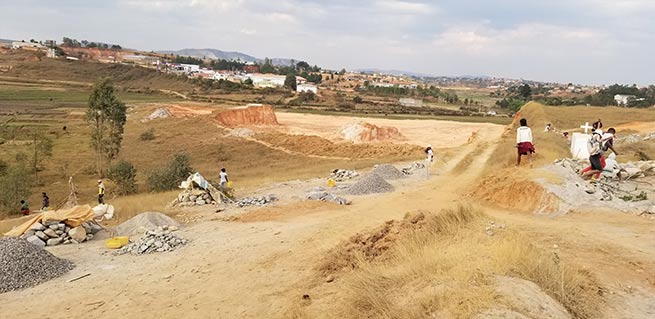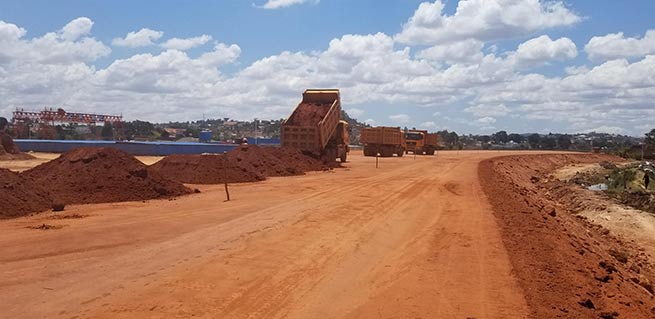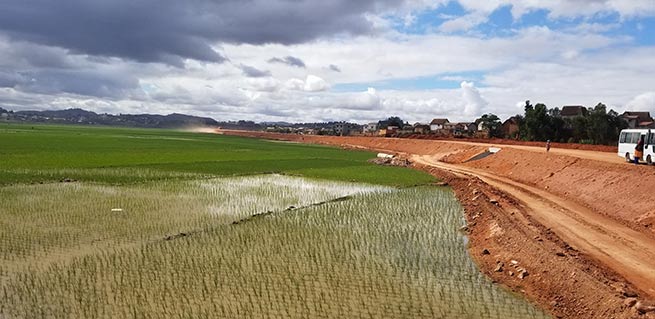 Amazonite Mine - Aug 2019
Our Amazonite mine has experienced difficulties over the past three mining seasons. Production is decreasing, while labor costs are increasing, which causes a price increase. Our Geologist is hoping to get an excavator up the mountain in order to further expand the mine. Another option would be to convert the mine to underground. There has been social unrest with the local Malagasy people, along with a rising crime rate. We've hired military personal for security to alleviate this problem, so that we can continue to provide you with the best selection of Amazonite products.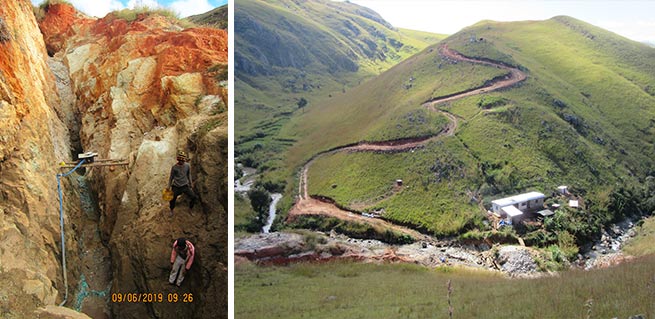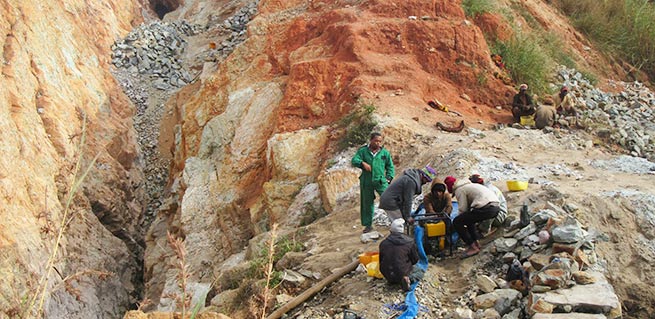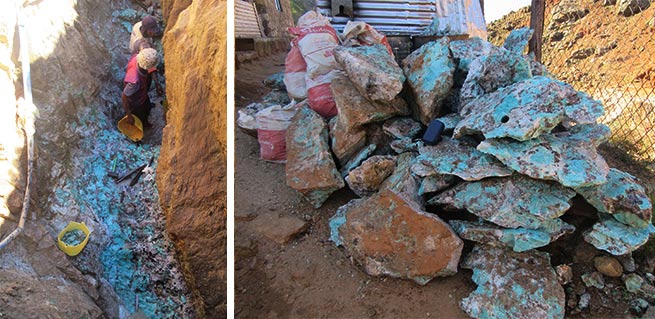 Labradorite Mine - Maniry Bakoneke School Update - Aug 2019
The Norcross School in Ankilimare - Bokonaky is going on its 3rd year. This school, near our Peacock Labradorite mine, receives additional funding
through the
School Feeding Program
of t
he NGO ADRA (Adventist D
evelopment and Relief Agency).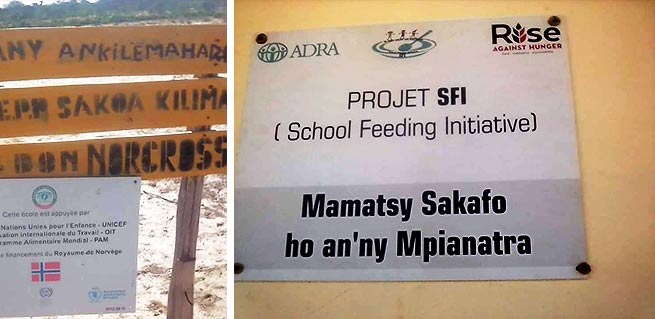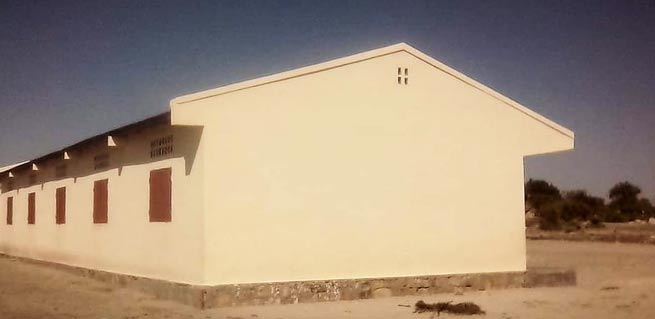 Fire Labradorite Mine - Aug 2019
A crane is now in place to load large Fire and Peacock Blue Labradorite blocks. High quality boulders are dynamited to fulfill the large demand for Labradorite rough and Gem Décor Rough.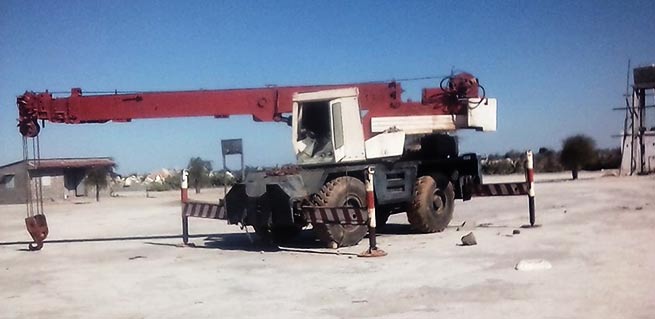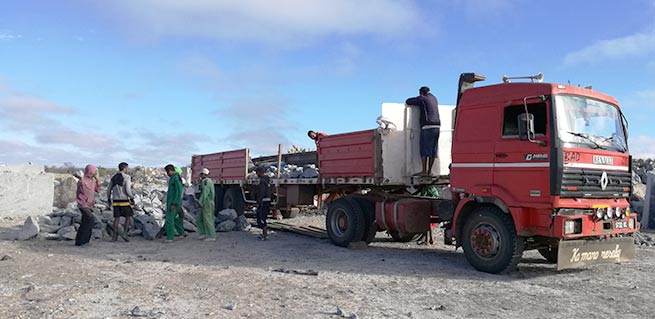 March 2019
For the 2nd year in a row, Norcross was bestowed with the Australia Awards Africa award for Local Economic and Social Development in Extractives from the University of Queensland. This award recognizes Norcross's commitment to

the development of

the

local

Malagasy people, along with our

stewardship of the environment.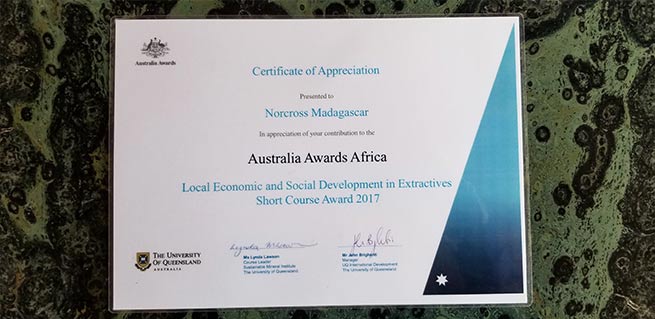 Archived News Updates on